Stephen Docherty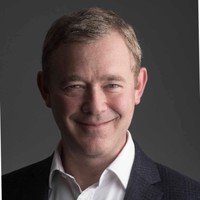 Stephen Docherty is Industry Solutions Executive for health at Microsoft. Stephen has also spent 4.5 years as Chief Information Officer for South London and Maudsley NHS FT. Whilst at SLaM, Stephen and his team became the first NHS trust to fully adopt Office 365 and were the first of two UK organisations to develop cloud services in Microsoft Azure, as part of delivering SLaM's digital strategy and enabling a digital workforce. In 2017, South London & Maudsley was selected by NHSE to become London's global digital exemplar (GDE) for mental health services.

Prior to the NHS, Stephen has a technology background that covers digital marketing, the games industry, retail and high-tech manufacturing. From 2016 - 2019, Stephen was Chair of the London CIO Council for health providers across the capital and in April 2018 was voted no.42 in the UK CIO 100 most influential CIOs.

Stephen was a speaker at the AI for Longevity Summit 2019.