Yaron Turpaz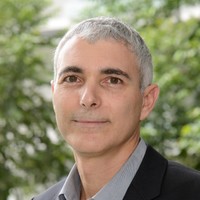 Yaron Turpaz PhD MBA is Chief Information & Data Officer at Human Longevity, Inc. Turpaz is a proven research and development IT leader in the biotech and pharma space with hands on experience using computational and informatics platforms for drug discovery and development applications. In his role as CIO at HLI, Turpaz is responsible for building and growing the company's integrated genomic and phenotypic KnowledgebaseTM business, and leads all bioinformatics/informatics and software engineering efforts. Turpaz is expanding informatics program at HLI's California facility, as well as building a computing and informatics program and facility in Singapore. Turpaz also leads the development of Health Informatics solutions and apps for HLI's Health NucleusTM business, with a focus on integration of genomics data in medical records and tools that provide continues virtual health monitoring and support.
Turpaz comes to HLI from AstraZeneca. Most recently he was the Vice President, R&D IT responsible for the global IT organization services, analytics and infrastructure supporting drug discovery and development. In this position he led a global team of approximately 300 and was accountable for the more than $120 million R&D IT budget. In 2011 he started at the company as the Vice President of Informatics and Information Sciences. He led a global team who were responsible for developing Big Data analytics, knowledge engineering and scientific informatics solutions across the company's drug discovery & development pipeline for a variety of therapeutic areas including oncology, diabetes, cardiovascular, neuroscience and infectious diseases.
Before AstraZeneca, Turpaz worked in Eli Lilly's Singapore Centre for Drug Discovery as Director of Integrative Computational Sciences. He headed the bioinformatics, data analysis and software development department whose efforts were geared toward enhancing drug discovery and biomarker identification for oncology and metabolic diseases. Turpaz and his group developed and utilized novel computational approaches by integrating genomic, proteomic and other quantitative biological data to improve drug development and enhance clinical trials. While there, he co-established the Asian Cancer Research Group (ACRG) in collaboration with Merck and Pfizer. The ACRG is a not-for-profit organization conducting genomic and proteomic analysis on cancers prevalent in Asian populations.
Prior to joining Lilly, Turpaz was Senior Manager, Bioinformatics and Algorithms Development at Affymetrix, Inc. There he managed a team of bioinformaticians, statisticians and software engineers who developed informatics solutions for a variety of microarray applications. He and his team were contributing to the development and launch of six successful commercial microarray products there.
Turpaz has BS in Biology from Tel Aviv University, a Ph.D. in Bioengineering from the University of Illinois and an MBA from the University of Chicago, Booth School of Business. He also held an adjunct assistant professor at the Centre for Quantitative Medicine of Duke-National University of Singapore, Graduate Medical School in Singapore.