Kanwaljit Soin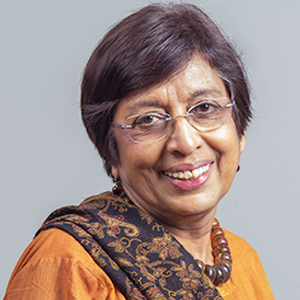 Kanwaljit Soin is a practising medical specialist and was Singapore's first female nominated member of parliament. She is a founder of many civil society organisations, including WINGS (Women's Initiative for Ageing Successfully) and AWARE (Association of Women for Action and Research). She was a global ambassador of UK-based HelpAge International, which serves disadvantaged older people worldwide. She has served as a board member of the Washington University International Advisory Council for Asia. She has also been a jury member for the Rolex Awards for Enterprise.

In 2000, Ms Soin was presented with the Women Who Make a Difference Award by the International Women's Forum in Washington, DC. In 2006, she received the Lifetime Achievement Award from the United Nations Development Fund for Women (Unifem) Singapore for her selfless contribution to society, especially towards the less advantaged. She was named Singapore's Her World Woman of the Year in 1992, and in 2014 she was inducted into the Singapore Women's Hall of Fame.

Ms Soin is the co-editor of Our Lives to Live: Putting A Woman's Face to Change in Singapore and author of Silver Shades of Grey: Memos for Successful Ageing in the 21st Century.