Asa Takii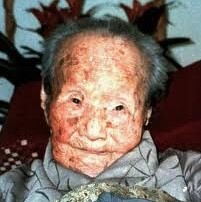 Date of birth: 28 April 1884
Date of death: 31 July 1998
Lifetime Duration: 114 Years, 94 Days

Asa Takii (28 April 1884 – 31 July 1998) was a validated Japanese supercentenarian.

Takii was born in Hiroshima on 28 April 1884. On 6 August 1945, at the age of 61, she survived the atomic bomb dropped on the city. She said that she was washing clothes when she saw a huge flash. The blast killed her husband and family and buried her in the rubble of her home until she was found days later. Takii loved poetry and regularly wrote haiku, a traditional Japanese form of poetry, until giving up at the age of 106. Takii died of heart complications from high blood pressure on the island of Kurahashi, on 31 July 1998. She was aged 114 years, 94 days.