Eileen Whelan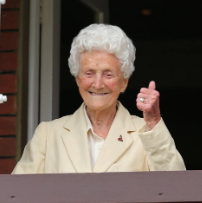 Date of birth: 30 October 1911
Age as of 27 August 2019: 107 years, 301 days

Eileen Ash is a former English cricketer who played seven Test matches for England between 1937 and 1949. She is the oldest living international cricketer. Whelan played Test cricket both before and after the Second World War, making her debut against Australia at Northampton in June 1937 and playing her last game against New Zealand in Auckland in March 1949. A specialist bowler, she took 10 Test wickets at 23 runs apiece. Outside of playing cricket, Ash was employed by the Civil Service from the age of 18. She was seconded to MI6 during World War II, and went on to work with the organisation for eleven years. She took up golf in later life, only quitting at the age of 98. In 2011, Ash became the first female test cricketer to live to 100 years old. In July 2017, aged 105, Ash rang the bell at Lord's to signal the start of play at the 2017 Women's World Cup Final, which England won. She passed her driving test at the age of 105, a feat covered on the ITV reality show 100-Year-Old Driving School. To mark her 106th birthday, she was taken for a flight in a Tiger Moth.