Bessie Hendricks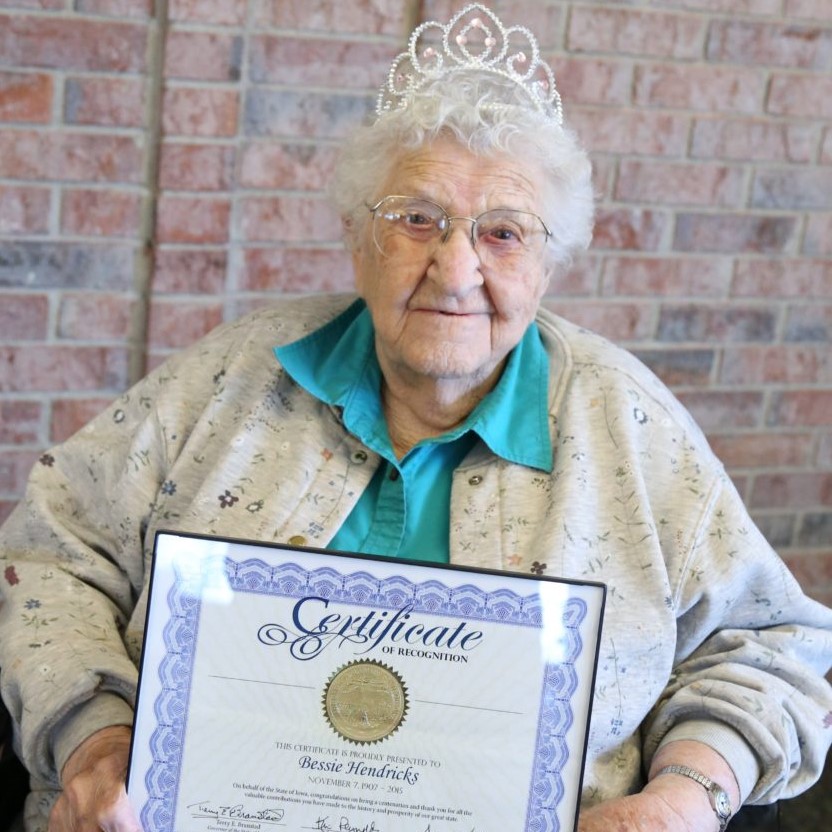 Date of birth: 7 November 1907
Age as of 27 August 2019: 111 years, 293 days

Bessie Hendricks was born on a farm in Carroll Countym a few miles southeast of Auburn, Iowa. At age 5, Hendricks began attending first grade — there was no kindergarten — at the country school across the road from the family's farm. By the time Bessie Hendricks entered seventh grade, the local country school was closed to due lack of pupils, so she attended Central School in Lake City. A more profound life change would occur, however, when Hendricks' mother passed away from illness on July 2, 1921. Thereafter, 13-year-old Bessie Hendricks had to assume many more household responsibilities. She continued her education, however, and graduated from Lake City High School in May 1926. A little over 90 years later, she attended the all-school reunion in Lake City in the summer of 2016.

Bessie married to Paul Hendricks on June 27, 1930, at the Woodlawn Christian Church. Paul Hendricks worked at the grain elevator and depot, in addition to running a small store. The couple's first two daughters, Shirley and Joan, were born during this time. In her later years, Hendricks stayed busy helping her family with various projects, including processing 500 chickens one summer. She was also active in the Woodlawn Christian Church, where she has been a member for 92 years.