Dorothy Brown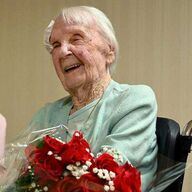 Date of birth: 1 May 1907
Age as of 27 August 2019: 112 years, 118 days

Dorothy Brown was born in the Brooklyn borough of New York City, USA on 1 May 1907. A mother of three, Brown worked at Rogers Peet – a clothing store founded by Charles Peet – and Dunhill in Rockefeller Center, just steps from St. Patrick's Cathedral. Her customers included television celebrities, news people and movie stars, including Broadway star Carol Channing. Each day, Brown took the subway from Brooklyn into Manhattan. Brown – characterized by her grandchildren as energetic – did not slow down after retiring. She volunteered as director of travel at her parish and at Beth Israel Hospital in Brooklyn, where she crocheted blankets for premature babies and delivered yarn to her home-bound friends. All four of Brown's grandparents emigrated from Ireland to New York. She is proud of her Irish and American heritage and can often be heard singing patriotic songs. Brown has 10 grandchildren, four great-grandchildren and one great-great-grandchild. Family members visit Brown once a day. Brown lived in her own apartment in New York, until she was 101, when she moved to an assisted living facility in Brooklyn. She moved to Framingham in 2019 to live closer to her family. On 26 June 2019, Brown was honored as the oldest resident of the city. Dorothy Brown lives in Framingham, Massachusetts, USA at the age of 112 years, 97 days.