Evangelista Luisa López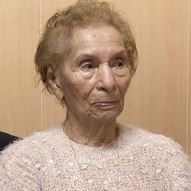 Date of birth: 21 June 1907
Age as of 27 August 2019: 112 years, 67 days

Lopez de Cantarino was born in Villa Constitucion, Province of Santa Fe, Argentina, on 21 June 1907. In 1989, at the age of 82, she moved to Mar del Plata with her husband and children. She had 6 children.

Evangelista Luisa makes tissues and cares for her plants. According to her granddaughter: She's always doing things, she likes to talk a lot. At the age of 112, she had 16 grandchildren, great-grandchildren and great-great-grandchildren.Lopez currently lives in Don Bosco, Mar del Plata, Province of Buenos Aires, Argentina. She currently lives with her daughter Sara (aged 89 in 2019) and her son Mario (aged 86).