C. P. Crawford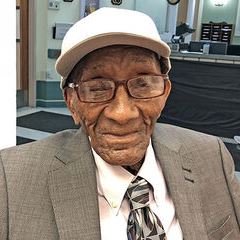 Date of birth: 25 August 1907
Age as of 27 August 2019: 112 years, 2 days

Crawford was born in Jackson, Mississippi, USA, on 25 August 1907. His mother died when he was an infant and he only knew her from stories told by his family. Named after a traveling Southern preacher, CP is his actual name, not his initials. CP is the youngest of his family, which included three brothers and two sisters. All siblings were separated after his mother passed and were raised by aunts and uncles. He was not allowed to attend school so as a young boy around the age of 4, CP started helping out by working in the fields picking cotton, ploughing the fields of corn and manning the gardens. Later on in his life, CP was offered a job at Southland Oil Refinery, from there he went on to work at Illinois Central Railroad which brought him to Chicago. He was married three times and had six foster children, but never had any biological children.

CP currently lives in Lansing, Illinois, USA. He may be the oldest living African-American man after the death of Richard Overton on 27 December 2018. After the death of Henry Tseng on 27 February 2019, Crawford became the oldest known living man in the United States and the last known surviving man in the USA born in 1907.