Gustav Gerneth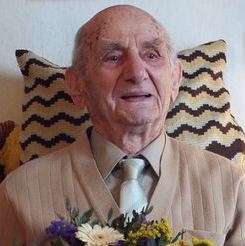 Date of birth: 15 October 1905
Age as on 27 August 2019: 113 years, 316 days

Gustav Gerneth was born on 15 October 1905 in Szczecin in the province of Pomerania, Prussia, which was then part of the German Empire but is now Poland. There, he was trained as a machinist and started his career by seafaring in 1924. In 1930, his wife married Charlotte Grubert in Havelberg. The couple raised three sons in Szczecin, again. Mr. Gerneth serviced in World War II and what was captured by Russian corps until 1947. Later the family moved to Havelberg and Gerneth worked in the local gas plant until his retirement in 1972. His wife died in 1988. At the time of his 110th birthday, Gustav Gerneth was the seventh man to become a supercentenarian. He was reported to have outlived his sons, being in their 80s, by the age of 109. Until the age of 107, he had purchased everything on his own. Gerneth is still able to take care of himself, being interested in today's politics and sports. On 15 October 2017, Gustav Gerneth is celebrating his 112th birthday, being the first German ever to do so. Being asked for his secret of longevity, Gerneth trusts in good meals (always butter, never margerine), no alcohol or cigarettes but also no active sports.

At the age of 113, he was living in Havelberg for more than 45 years. His granddaughter takes care of him.