Hazel Eikermann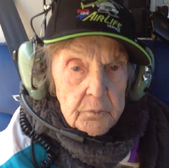 Date of birth: 11 December 1907
Age as of 27 August 2019: 111 years, 259 days

Hazel Belle Eikermann is an American supercentenarian whose age is currently unvalidated by the Gerontology Research Group.

Eikermann was born in Kansas on 11 December 1907. She grew up with 10 brothers and sisters. She married Leo Eikermann in Leoti, Kansas in 1933. They moved to Flagler, Colorado, where Leo had a wheat field. The couple had three children. Following her husband's death, Eikermann moved around Colorado to Fort Collins, then to the Denver area, before returning to the Eastern Plains. She was a teacher by profession and was very active in her church and community in Flagler. Eikermann has lived in Hugo, Colorado in a care center since 2013. In January 2018, at the age of 110, she went on a helicopter ride. She credits her sense of humour, family and faith for her longevity.