Antonia Valderamma Ocampo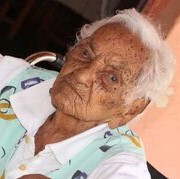 Date of birth: 11 Apr 1907
Age as of 27 August 2019: 112 years, 138 days

Antonia Valderrama Ocampo claims to have been born in Hacienda de Cabanas, Guerrero, Mexico, on 11 April 1905. She witnessed the passage of hurricane Tara in 1961, which left several communities in the region destroyed, including her birthplace, Hacienda de Cabanas. She married in Hacienda de Cabanas.

Antonia allegedly met Lucio Cabanas Barrientos, Mexican schoolteacher, when he was traveling through the region.