Maria Branyas Morera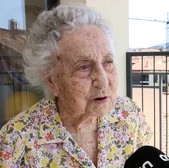 Date of birth: 4 March 1907
Age as of 27 August 2019: 112 years. 176 days

Maria Branyas Morera is a Mexican-born Spanish supercentenarian whose age is currently unvalidated by the Gerontology Research Group (GRG). She is the oldest known living person in Catalonia, Spain.

Maria Branyas Morera was born in Mexico on 4 March 1907. She emigrated to San Francisco, California in 1909. At some point in her life, she moved to Olot, Catalonia, Spain. In 2000, when she was 93, she moved into a care home in Olot. During her centenarian years, she loved to give advice to people that asked for it. At the age of 110, she still read the newspaper every day.