Anna Benericetti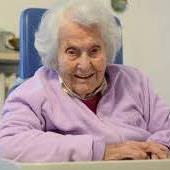 Date of birth: 22 March 1906
Age as of 27 August 2019: 113 years, 158 days

Benericetti-Cimatti lives in Forlì, Emilia-Romagna region, Italy.

At 111, she had three children, eight grandchildren and 14 great-grandchildren. She spent the days sitting in the wheelchair. Despite some difficulties in sight and hearing, her health was good, had a healthy appetite and loved listening to mass on the radio or on TV every day. Following the death of Maria Giuseppa Robucci-Nargiso on 18 June 2019, Anna Benericetti became the oldest living person in Italy.