John Pattison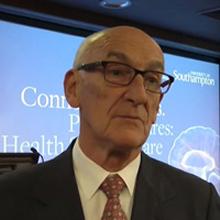 Formerly Director of Research and Development at the Department of Health in England, who is well placed to assess the health services' ability to deliver the changes emerging from health research findings.
Between 1975 and 1977, he was Senior Lecturer in Virology at London Hospital Medical College at St. Bartholomew's Medical School; and from 1977 to 1984 Professor of Medical Microbiology at King's College Hospital Medical School. Since 1984 he has been Professor of Medical Microbiology at University College London, Dean of UCL Medical School (1990-1998) and is at present Vice-Provost of UCL. From 1992-1995 he was Chairman of the Physiological Medicine and Infection Board and a member of the Medical Research Council.
He was a member of the Board of the Public Health Laboratory Service (1989-1995) and editor-in chief of Epidemiology and Infection (1980-1994). He is currently Deputy Chairman of the King's Fund Management Committee, Chairman of the Spongiform Encephalopathy Advisory Committee and senior medical advisor to the Medical Research Council.
Sir John's own research interests have been concerned with aspects of medical virology, particularly rubella virus infection and original work on the identity and consequences of infection with the human parvovirus B19.