Alpex Pharma

Company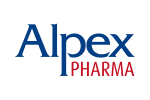 Alpex Pharma is a pharmaceutical company active in Research & Development and Production of ODT (Orally Dispersible Tablet) called also "fast melt" and effervescent tablets. Alpex Pharma has developed a unique proprietary covering ODT technology.
The high production capacity and advanced R&D technologies makes Alpex Pharma to be one of the most important company of the world in the field of fast melt and effervescent tablets.
The company has a state-of-the-art manufacturing and R&D facilities of some 7000 square meters, with separate pharmaceutical and nutritional plant GMP compliant.
---
Investors