Gerontological Economic Research Organization (GERO)

Non-Profit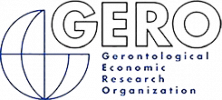 GERO is a free and independent research endowment foundation set up to promote international scientific research in the fields of gerontology, geriatrics, and related sciences. Among other things, the integration of now common and all over available IT (Internet) is fed into the everyday life of elderly people and from GERO scientifically supported. One research focus is the development of everyday use sensors technology for this population group.

The most recent worldwide research and other scientific data on the causes and effects of aging processes and aging infirmities are analyzed and then realized as GERO research projects by using state-of-the-art communications technologies. For this reason, GERO is cooperating with numerous scientists in the fields of medicine, gerontology, biology, pharmacology, and other related areas and has close ties with leading universities and research institutes in many countries in the world.