Auris Medical

Company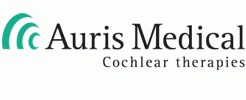 Auris Medical are dedicated to developing novel pharmaceutical therapies to protect hearing, silence tinnitus and restore balance.

Auris Medical is the leading pioneer in the emerging field of therapies for neurotologic disorders affecting the inner ear. They have two projects in advanced clinical development, Keyzilen® for the treatment of acute inner ear tinnitus and AM-111 for the treatment of acute inner ear hearing loss. In addition, they have AM-125 in early clinical development for the treatment of vertigo.

Company has additional projects under development and are further strengthening their pipeline through collaborations with leading academic institutions in this field.