Life Technologies

Company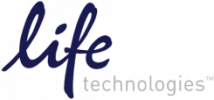 Life Technologies is a biotechnology company involved in the fields of scientific research, genetic analysis and applied sciences.
Life Technologies Corporation operates as a biotechnology tools company. The company's systems, consumables and services enable researchers to accelerate scientific exploration, to discoveries and developments.
Life Technologies was created by the combination of Invitrogen Corporation and Applied Biosystems, Inc. in November of 2008, and Life Technologies continues to serve its customers under those two well-known brands. Invitrogen is the premier provider of reagents and consumables that are usable across multiple platforms, while Applied Biosystems remains the top provider of systems-based, end-to-end solutions in areas such as PCR, genetic sequencing, and mass spectrometry.
The company delivers a range of products and services, including systems, instruments, reagents, and custom services. Its portfolio of products includes technologies for capillary electrophoresis based sequencing, sequencing, mass spectrometry, sample preparation, cell culture, RNA interference analysis, functional genomics research, proteomics and cell biology applications, as well as clinical diagnostic applications and water testing analysis.